Big weekend for the camp. Along with the customer appreciation & The Alife x Reebok release, we are sponsoring an art shindig @ The City Arts Factory.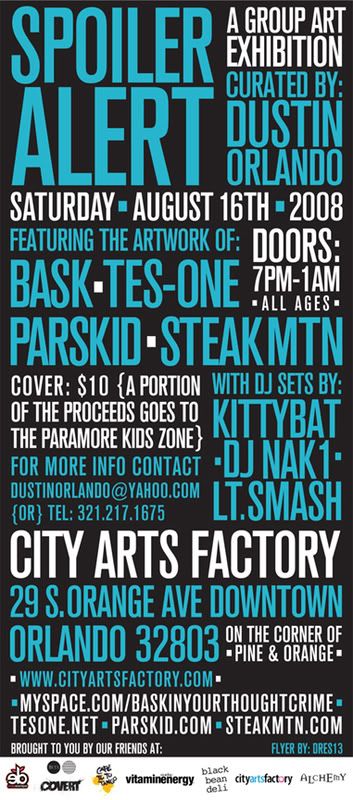 SPOILER ALERT-
Usu. a term used to describe when crucial elements are about to be revealed
What is SPOILER ALERT?
SPOILER ALERT is a 4 person group art exhibition, coupled with live music performances, and dj sets.
The event will take place at Downtown Orlando's City Arts Factory on Saturday August 16th,2008 from 7pm-1am.
SPOILER ALERT features artwork by 4 mid-career artists (TES-ONE, BASK, PARSKID, and STEAK MTN)
who are making their works known and relevant in both the commercial arts and fine arts world's.
Leaving their images embedded in the minds of the viewer through campaigns with:
MTV, Zune, Sire/Warner Bros, Vice/Atlantic, Earache Records, Threadless, Electricbaby, Myplasticheart, Hi-Frustose, Beautiful/Decay, and Art Prostitute,
Not to mention numerous nationwide gallery and museum exhibitions.
Without a doubt, these 4 artists are on the rise and are certain to be sought after!
All of the artwork in SPOILER ALERT will be available for purchase and will be priced for the 1st time art buyer, as well as the
seasoned collector.
More info on SPOILER ALERT
WHEN: Saturday August 16th, 2008
FROM: 7pm - 1am
WHERE: The City Arts Factory
29 South Orange Ave | Downtown Orlando 32801 | 407-648-7060
COST: $10.00 (A portion of the proceeds will go to The Parramore Kids Zone)
For more information about SPOILER ALERT
Contact: Dustin Orlando
dustinorlando@yahoo.com | dustin@objexartspace.com | 321-217-1675
Related Websites:
cityartsfactory.com
objexartspace.com
tesone.net
myspace.com/baskinyourthoughtcrime
parskid.com
steakmtn.com